Here you will find detailed examples of a few pieces of work I have done, and collaborated on. Each website has a stated objective, design, development, and programming notes. If you are interested in learning more about what I can do for you or your company, I will be more than happy to meet with you.
Premier Baby & Child Website
Objective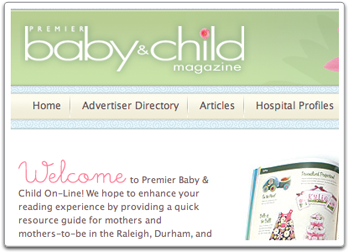 PremierBaby.com was initially created as a companion site to Premier Baby & Child Magazine in 2003. It consisted solely as a mirror of the magazine and included links to advertisers in the magazine. In 2007, a new site was designed and developed to offer more content to readers of the magazine, including new articles, resources and links, and photo galleries of parties, showers, and nurseries from previous issues. Users consist mainly of new mothers, and mothers-to-be. A monthly e-newsletter is also offered to site users, by subscription.
Design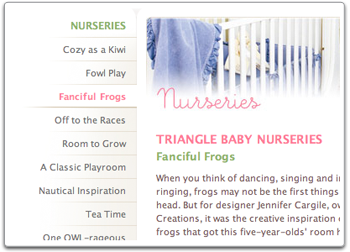 A target goal of the redesign included a cleaner user interface that expanded and contracted naturally, paired with a modern, updated feel rivaling that of major, like-minded websites. Special care was taken to make sure all colors that were used in the "shell" would easily accommodate all graphics and photos, updated on a yearly basis, after the newest magazine hit the stands.
Development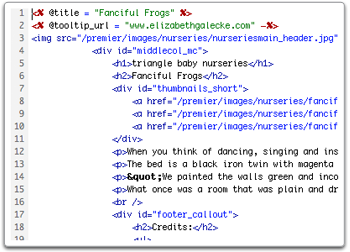 The site was created in a CSS-driven environment, utilizing a "tableless" structure and built within a Ruby on Rails application. Web standards and SEO were taken into consideration while coding this medium-sized site. Worked closely with a production assistant who helped ensure pages flowed well and the site was user-friendly and intuitive.
Programming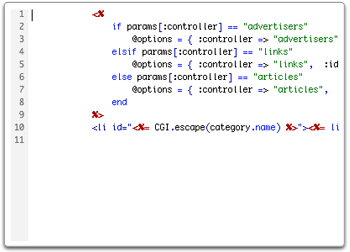 The Ruby on Rails programming for PremierBaby.com was structured in such a way to allow easy integration of data for the front-end developer, while still maintaining the integrity of the programming logic. Code components could be added to the site, similarly to a dynamic include file, that would allow the site to grow along with the front-end production. Having knowledge of the site's overall goals and a clean HTML structure, the application developer and I worked closely to develop a good separation of logic and layout.
Top