Here you will find detailed examples of a few pieces of work I have done, and collaborated on. Each website has a stated objective, design, development, and programming notes. If you are interested in learning more about what I can do for you or your company, I will be more than happy to meet with you.
Fleurtations Weddings & Events Website
Objective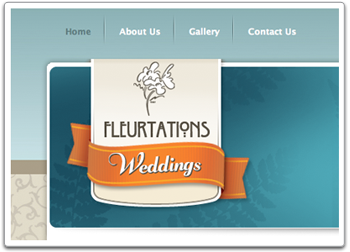 FleurtationsWeddings.com was created primarily as an off-shoot to Fleurtations Florist & Gifts in order to focus on the wedding and event-planning side of the business. The client was interested in showcasing his unique talents as a floral and tablescape designer to brides-to-be and other clientele interested in planning an event.
Design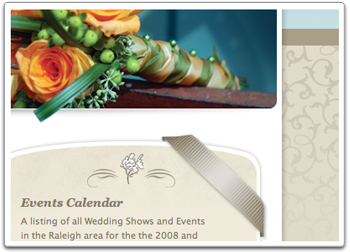 Since the site is specific to weddings and wedding design, the client needed the ability to show his creations ranging from single bouquets, tablescapes, and full weddings and parties in a photo gallery. Special care was taken in the design elements found throughout the site to give the overall feel of the wedding experience, such as is found in the ribbon surrounding the right box, as one might find on a placecard or wedding invitation.
Development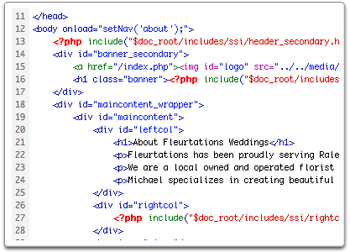 The site was created in a CSS-driven environment, utilizing a "tableless" structure and adhering to the most current XHTML web standards. Typical coding obstacles were already overcome in the design phase of the project, allowing time to focus on creating clean and concise code.
Programming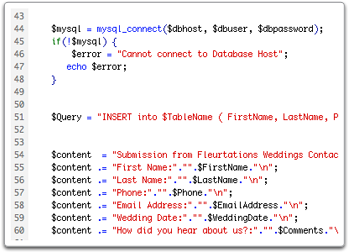 Light PHP programming was utilized for the contact form. Upon submission, the information is sent to a database and also e-mailed directly to Fleurtations. A random quote generator was developed for the testimonials area in the heading of each page, changing upon site refresh. A javascript slideshow plug-in was used to create the dynamic and fluid feel of the photo gallery.
Top